Testimonials from Landwehr Outfitters recent clients.
Sun, May 24, 2015
Hi Brett,
I'm filling out my 2015 Archery Antelope license application, and thinking back?on how much fun I've had over the last dozen or?so hunts with you and?your guides.? I'm remembering our first Antelope coming in hard and fast as we both hid behind the decoy, you must have been thinking " man I hope this guy has practiced half as much as he says he did", and clearly I hadn't, as the arrow sailed high and wide !? The option?of adding a Prairie dog hunt for guys who get their Antelope early has given me an incentive to practice a little more diligently during the summer,?because spending an afternoon shooting Prairie dogs is just about as much fun as I guy can ask for, and well worth the price !
I was?successful in drawing an Archery Elk tag this year and I will be contacting you soon to talk over available dates.
A week walking?in the?breaks of the Missouri River above Ft. Peck Lake, eating fish we caught that afternoon helps me
"get my mind right Luke" !
Seriously, I'm not sure which I looked forward to more, the bugling Bulls or watching you?scoop up that big walleye with the landing net. Your ability to offer so many gaming options outside of the booked hunt is what first attracted me to your operation and is one of the main reasons I have booked with you consistently for the last 8 years.
As for the 2015 Trophy Mule deer hunt, If its still available, I would like to book the week of November 23, my usual week,? I hope like?in years past I'm successful early in the week so we can go after some of them Canadian Geese and those big Northern Mallards.
Like I tried telling you last year, you've to lead them big northern birds a little more!? Honestly you might have schooled me a little on the duck hunting but that was half the fun.
I hope your summer is going well and I'm looking forward to seeing you and the guys this fall.? Let's talk dates soon because I know you fill up fast.
See you in September,
Dave Feyereisen
---
November 14, 2010
Brett-
Just dropping you a note to thank you for the hunt this fall.? This was my third time hunting with you folks and it just keeps getting better.? I've fished and hunted in guided camps all over North America and you guys are at the top of the list.
It makes a big difference to have such skilled guides.? The antelope hunting with your dad Jim was terrific.? He knows how to find and stalk antelope!? The mule deer hunt I did with Rich was equally rewarding, that guy works hard and never quits.? With his help, I was able to see plenty of good bucks and take a terrific 5X5 mulie, my best deer to date.
Beyond the technical part of the hunt, I'd have to say that just being there is a lot of fun.? Doni cooks up a storm, and the camaraderie of the guides and other hunters feels like home.? Add the unbelievable scenery and being able to see nongame wildlife like eagles and you've got a great way to spend an autumn week.
Thanks again.? I'll be back soon.
Rob
---
Jim & Brett
I really want to thank you guys again for my first antelope hunt.
What a great time! I also thought last year's mule deer hunt was the best.
I have never felt more comfortable on a guided hunt. My guide, Brett, was incredible. Living in Arizona, it's very hard to draw an antelope tag, so it was nice to be able to hunt Montana bucks for my first hunt. The hardest part of this hunt was turning down quality bucks on the first couple of days. Not to mention Brett threatening to lock my rifle in the truck if I didn't settle down (Hunter's Time-Out, I guess, ha ha). He kept reassuring me that we would see bigger ones and, of course, the last day I got my antelope.
A special thanks to Doni for the great meals & all the hard work she does!
Thanks again.
I'll see you guys next year!
Mike Stewart
Scottsdale, AZ
---
December 15, 2008
Dear Jim and Brett,
Just a quick note to say thanks for another great year of hunting.
I can't believe this was my 5th year hunting with you guys already. After 25 years of tree stand hunting in Minnesota and Wisconsin, I am definitely hooked on "Montana Style Hunting." From the rush of that antelope coming into the decoy at full speed to the long stalk of the trophy mule deer, there is no bigger thrill!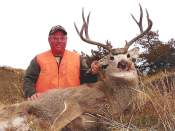 Having hunted with all of your guides now, I can safely say I have never met a more dedicated group of guys determined to get you the best shot at a quality animal. I sometimes wonder who is having more fun, me or the guide.
One of the aspects of your operation I like the most is the instant camaraderie you feel the minute you arrive. Everyone is made to feel welcome. The accommodations are very comfortable and the food is out of this world. Evenings spent back at camp sharing stories of the day's hunt is something I will cherish for many years to come.
I will be back next fall for my seventh hunt with you to try my hand at archery elk. It can't come soon enough.
Please say hi to all the guys, and thanks again for all you do to make every hunt such a great experience for every hunter.
Dave Feyereisen
Minneapolis, MN